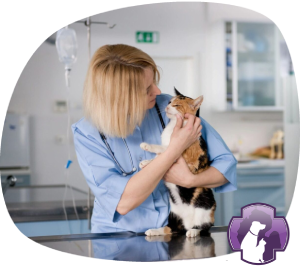 Skilled Veterinarians for
Your Four-Legged Friends
Great Lakes Pet Emergencies (GLPE) has been a staple of the Tri-Cities (Saginaw, Bay City, and Midland) for more than 10 years. In 1999, our hospital opened after the local veterinarians identified a need in our area for more advanced and comprehensive after-hours care for their patients.
Designed for Your Comfort
Our client areas create a warm and calming atmosphere for all of our arriving patients and families.
Focused on Your Pet's Healing
Our staff and doctors are always on site, providing emergency health care, available for whatever your pets illness or injury may be.
Dedicated to Helping Other Vets
Our practice is designed to support, not compete with, your regular daytime veterinary hospital.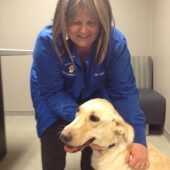 Dr. Jolynne Grant
She grew up in Bay City and moved back to the Great Lakes Bay area in 1999, where she opened Great Lakes Pet Emergencies. Dr. Grant has practiced emergency medicine since graduating from Michigan State University. She enjoys working with the different patients that emergency medicine and critical care treatment present, from dogs with muzzles full of porcupine quills to labs eating socks, rocks, or bones.
Dr. Grant and her husband have a golden retriever named Coach and a Labrador retriever named Ziva. They all enjoy swimming and traveling around Michigan. She can often be found playing trivia in local contests.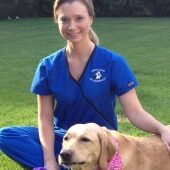 Lindsay Graham Stachowiak
One of our original employees from when we started in 1999, Lindsay became the full-time practice manager of our hospital in 2008. Her passion for animals has been there her entire life as she grew up with dogs, cats, horses, and even a rabbit. Lindsay's favorite part about her job is helping heal sick or injured animals while also comforting worried or stressed pet owners.
"I bring compassion and care to every patient and family I work with. I understand how difficult it can be to be worried about a member of your furry family."
She enjoys the fast pace of an emergency hospital and is always enthusiastic about her job. When not at work, Lindsay enjoys spending time horseback riding and vacationing in warmer climates with her husband and daughter. Lindsay also shares her life with a Golden Retriever, Emma, and cats, Sully and Virgil.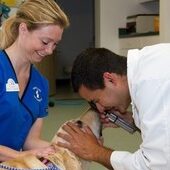 Dr. Matt Bullock
He is originally from California but went to Michigan State University for veterinary school. After deciding on practicing emergency medicine, Dr. Bullock moved back to Michigan. He and his wife live on a small farm and have a pet dog, cat, goats, and ducks.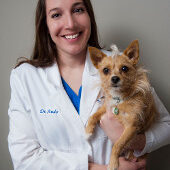 Dr. Amanda Audo
In July of 2011, she started working at Great Lakes Pet Emergencies. Dr. Audo went to Michigan State University for both her Bachelor of Science degree in Zoology and Doctorate of Veterinary Medicine. She completed a 1-year rotating internship in small animal medicine at Veterinary Specialty Center in suburban Chicago, Illinois, before moving back to Michigan.
She has a dog named Harper Lee and a cat and enjoys spending time with them on her days off. Dr. Audo also enjoys reading fiction, traveling, and hiking.
We understand it can sometimes be difficult to determine if your pet's injury or illness warrants an emergency visit. Our veterinary technicians and assistants are always available by phone to help you determine if your pet should be seen by our emergency veterinarians.
Give Us a Heads-Up
Calling ahead before arriving at our facility allows our staff and doctors to prepare for your arrival. This extra preparation time gives us time to set up necessary medical equipment like oxygen delivery systems and first aid supplies. If you need help transporting your pet into our building, our staff will be happy to have a mobile gurney ready and waiting for your arrival.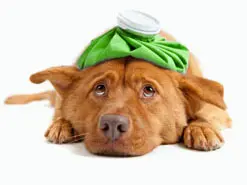 Please bring any current medications, vaccine records, and medical records you may have that pertain to your pet's condition. Do not forget valid identification for yourself as well as a form of payment for your visit.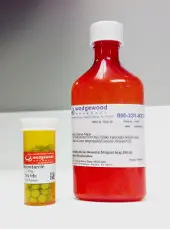 You and your companion will be greeted by one of our friendly emergency technicians or assistants in our lobby. They will obtain a summary of your pet's emergency while assessing the severity of your pet's condition.
Prioritizing Patients Accordingly
When possible, pets are examined by our doctors in the order of arrival. Most animals remain with their owners for the duration of their assessment and exam with our doctor. If your pet's condition is critical, he or she will be prioritized and transported directly to our treatment area for evaluation and immediate stabilization by our veterinarian.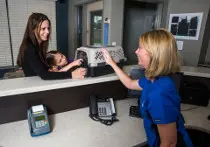 A thorough evaluation of your pet's condition will begin with a technician or assistant. Our staff will speak with you about your companion's medical history as well as obtain his or her complete vital signs such as:
Weight
Body Temperature
Heart and Respiratory Rate
Mucous Membrane Color
Capillary Refill Time
One-on-One With Our Vets
When our doctor enters the exam room, they will perform a complete physical exam and evaluate thoroughly any areas of injury or illness. They will also speak with you about your pet's condition, allowing you to ask questions or voice concerns about his or her illness or injury. During this meeting, the doctor will recommend a plan for diagnosis and treatment for your pet and discuss in depth what procedures or treatment is involved.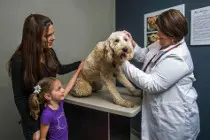 Our staff will review an itemized care plan with you after your pet's evaluation, detailing his or her treatment and diagnostic options and cost estimation. Evaluating the course of action this way allows you to make an informed decision on how to proceed with your pet's care. If the care plan is satisfactory, your technician will obtain consent signatures and payment for the services.
Voice Out Your Thoughts
Your medical team must have a clear understanding of your wishes before any course of treatment is undertaken. We ask that you share all of your questions and concerns regarding cost with your doctor or technician before treatment begins.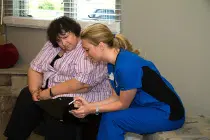 Cost of Care
Our facility is staffed by skilled emergency doctors and a well-trained team of licensed veterinary technicians, assistants, and nurses. Knowing your pet is an important member of your family, we all work together to meet his or her needs. We strive to provide advanced patient care 365 days a year at a reasonable cost.
Our equipment and training are state-of-the-art and are upgraded routinely as technology improves. Just like any human emergency room, a veterinary emergency hospital requires more extensive equipment than a typical daytime practice.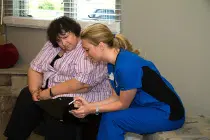 Operating an emergency practice also requires a uniquely trained staff working long and difficult hours. As a result, the overhead is greater than a normal veterinary hospital. The overhead is reflected in fees which may be higher than your regular veterinarian, but are comparable with other emergency centers.
We require full payment at the time a treatment plan is agreed upon. Any balance incurred during your pet's stay will be expected at the time of discharge. Our hospital is happy to accept cash, checks, debit cards, Visa, MasterCard, American Express, Discover, and Care Credit.
Payment Plans
Emergency clinics lack ongoing relationships with clients. Experience has also shown that a significant number of clients at emergency centers failed to pay balances as promised. Because of these reasons, it is not financially possible for our hospital to allow billing.
However, as a service to our patients, we are pleased to offer the CareCredit® card, North America's leading patient payment program. CareCredit® lets you begin your pet's treatment immediately and pay for it over time with low monthly payments that are easy to fit into your monthly budget.
With CareCredit®, you pay no up-front costs, no pre-payment penalties, and no fees. Plus, CareCredit® is a revolving credit line for additional treatment or add-on charges, without the need to re-apply. It only takes a few minutes to apply for CareCredit®, and you'll receive an online decision in seconds!
Apply now or see our staff for more details.
Forms of Payments We Accept
Major Credit Cards
Cash
Checks
TeleCheck
This provides our clients with safe and secure electronic check payment services.
CareCredit
This offers comprehensive payment options and low monthly payment plans.
Personal Checks
The check writer must be present with appropriate identification.
Our hospital is equipped with its own on-site lab and digital X-ray, which allows us to perform nearly all needed tests in-house within a short period. This lets our doctors have the diagnostic information they need to treat your pet quickly, eliminating the sometimes long wait for results from an outside lab.
Your pet may need to remain in our care while diagnostics are obtained and results interpreted. During this time, you will be comfortable watching television or reading a magazine in our newly remodeled lobby.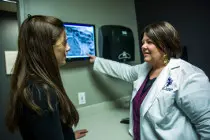 Patients that do not require admittance for care are treated by our doctors and then released to return home with you the same day. Any medications needed for use at home are dispensed from our in-house pharmacy. We also review with you clear discharge instructions detailing necessary at-home care.
Our doctors are committed to keeping your family veterinarian up to date on your pet's visit. We will also promptly fax them a detailed exam and treatment record of your pet's stay with us.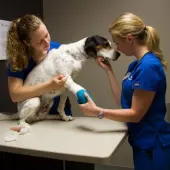 Your pet's condition may be serious enough to warrant admission to our hospital for care. His or her stay with us may vary from a few short hours to several days, depending on the care required for recovery.
You can rest assured knowing there is always someone here with your pet, even in the middle of the night. If your animal's condition changes, even at 3:00 AM, we are here to respond. While with us, your pet will always receive lots of love and extraordinary care from our deeply compassionate doctors and technicians.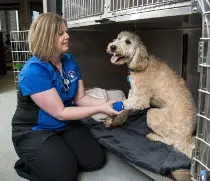 We believe that clear and open communication between you and our hospital is essential. Our staff of doctors and technicians will always keep you updated as to your pet's progress. You are always welcome to call for an update with questions or concerns, even if it's the middle of the night! Regardless of the time, we will relay any change in your pet's condition.
You are welcome to visit your furry friend while hospitalized at GLPE. We do ask that you call ahead, so we can ensure that an exam room will be available for private visitation. If the hospital is extremely busy when you call, you may be asked to visit at an alternative time.
While visiting, your pet's treatments will be paused, which may include being taken off IV fluids and other medications. Therefore, we ask that your visitations are limited to 1-2 visits of 15-20 minutes per 24-hour period.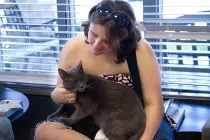 A discharge or transfer time will be scheduled for your animal. When you pick up your companion, your GLPE doctor or technician will answer all of your questions. We will also provide you with detailed instructions that explain your pet's diagnosis, the results of all tests, as well as your home care instructions.
Sometimes, patients require additional care after our hours of operation. You may be asked to transfer your pet directly from our facility to your family veterinarian or a specialty hospital. Due to our hours of operation, transfer appointments are generally scheduled Monday through Friday, between 7:00 AM and 8:00 AM.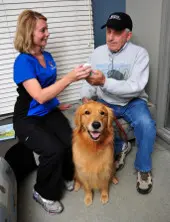 The partnership between you, your veterinarian, and our medical team is essential to all of us. We will send a detailed medical record of your pet's stay, test results, and X-rays to your veterinarian by fax or email. You or your family veterinarian are encouraged to call us with any questions or concerns at any time.